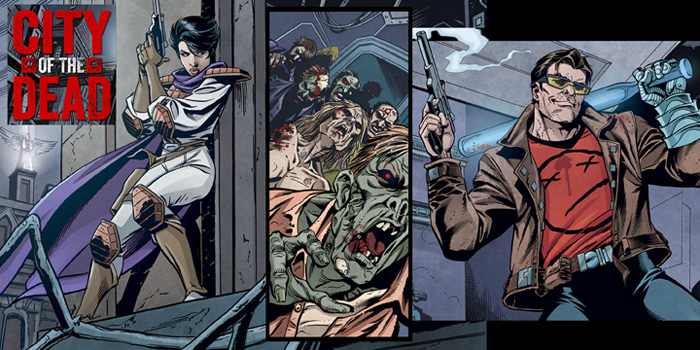 I'm thrilled to announce in collaboration with my co-conspirator Karl Kesel that starting today as special tricky treat, a brand-new, full color, zombie-infested TREKKER story is up and running today at Thrillbent.com. This is the firsr of a two-part Trekker/Johnny Zombie team-up! Part Two will post in two short weeks.
"City of the Dead" was Karl's brainstorm from the first. Karl and I go back many, many years from our friendship beginning in our days at the Kubert School. Despite our shared affinity for classic comic storytellers and art, we've worked together only glancingly over all that time. As I pursued my winding career path, Karl quickly evolved into one of the most entertaining writers and one of the most accomplished inkers in all of comics. Recently, he's also brought his unmatched craftsmanship to penciling as well, making him one of the top triple-threat creators in the field.
As if that wasn't enough to keep him busy, Karl somehow also found himself dreaming up a tale where his own iconic zombie-hunting hero Johnny Zombie could cross paths with Mercy St. Clair. We talked over the idea (basically, Karl shared it with me and I said, "When do we start?") and quickly got to work.
One of the key decisions we made up front was to design the story specifically for a digital format and to take advantage of this new medium. It was, to a large extent, a new way of approaching things. For a couple of comics veterans, it was a thrill to find ourselves discovering new twists in how we could have our tale unfold.
Karl presented the original story idea, and we haven't deviated significantly from that. But, as we worked to plan things out, we would tweak bits here and there to take advantage of special storytelling moments that are unique to the digital comic. Once we had things planned out, I penciled the work, and then Karl applied his immaculate inking touch. We were lucky to enlist both Karl's regular Johnny Zombie colorist Grace Allison and Trekker's own Jeremy Colwell to do the terrific and appropriately spooky coloring.
Karl and I are both tremendously pleased with the outcome. And we were very happy and a bit honored to find that Mark Wade was willing to host the story at his popular Thrillbent site!
On top of all this, it has been a great joy to finally get to work together with Karl, who I admire so much as a person as well as an artist of the first caliber.
Check it out, and see what you think of the potential that the digital medium adds to comics' storytelling!
http://ronrandall.com/blog/wp-content/uploads/2015/10/
350
700
Ron Randall
http://ronrandall.com/blog/wp-content/uploads/2015/10/Ron-Randall-Logo1.png
Ron Randall
2012-10-31 12:57:07
2012-10-31 13:05:41
A Halloween Treat: Zombies, Trekkers included!