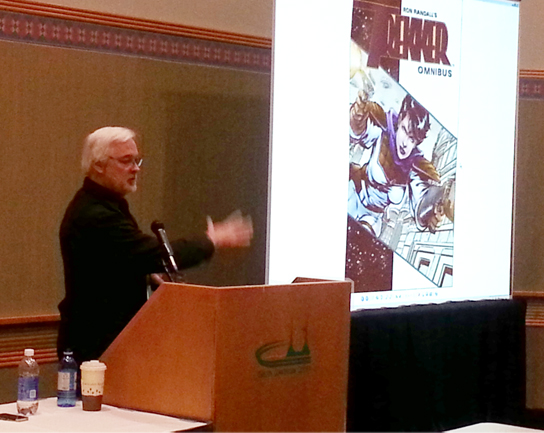 We held a rousing Trekker panel at this year's Stumptown Comic Fest in Portland.  I traced the history of the series from its inception in the pages of Dark Horse Comics, through Mercy's return via the Trekker website, and on  to the forthcoming  TREKKER OMNIBUS (with its terrific intro by comic's great Gail Simone) and the brand new stories launching in Dark Horse Presents later this month. Plenty of ground to cover!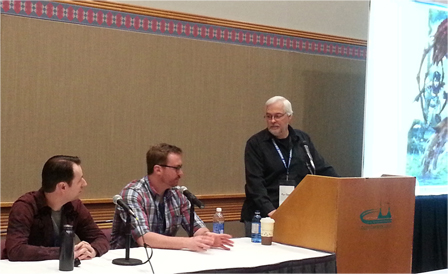 I was aided and abetted  by editor and panel moderator Jim Gibbons (center), who has helped immensely in making Trekker's return to print as rewarding and successful as I could ever hope for, and by Trekker 's awesome colorist Jeremy Colwell (left).  Together,  we explored everything from the concept of "world-building" in sci-fi and fantasy to  the ground-breaking role Trekker had as an early female-driven action/adventure strip, to the crafting of Mercy's character and the life-arc that  the series  is tracing. It took teamwork, I tell ya!
The time flew by, as it will when you are caught up in trying to convey your enthusiasm and commitment to a project as close to your heart  as Trekker is to mine. The crowd hung in there, offered some great questions , and stayed after for  more conversation. It was all terrifically rewarding.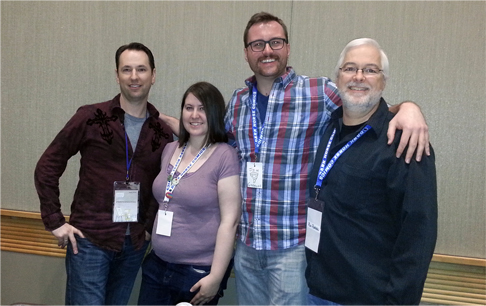 After the panel the whole Team Trekker was joined by Dark Horse production ace, Allyson Willsey, who has worked with the same dedication as the rest of us to make Trekker's return sparkle. All together,  great group of people to hang out with as well as to make comics with!
http://ronrandall.com/blog/wp-content/uploads/2013/05/Trekker-Panel-Report_WEB.jpg
1986
544
Ron Randall
http://ronrandall.com/blog/wp-content/uploads/2015/10/Ron-Randall-Logo1.png
Ron Randall
2013-05-03 12:36:12
2013-05-03 12:36:12
Trekker Panel at "Stumptown 2013"!