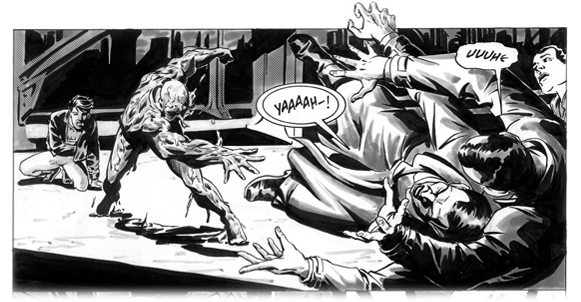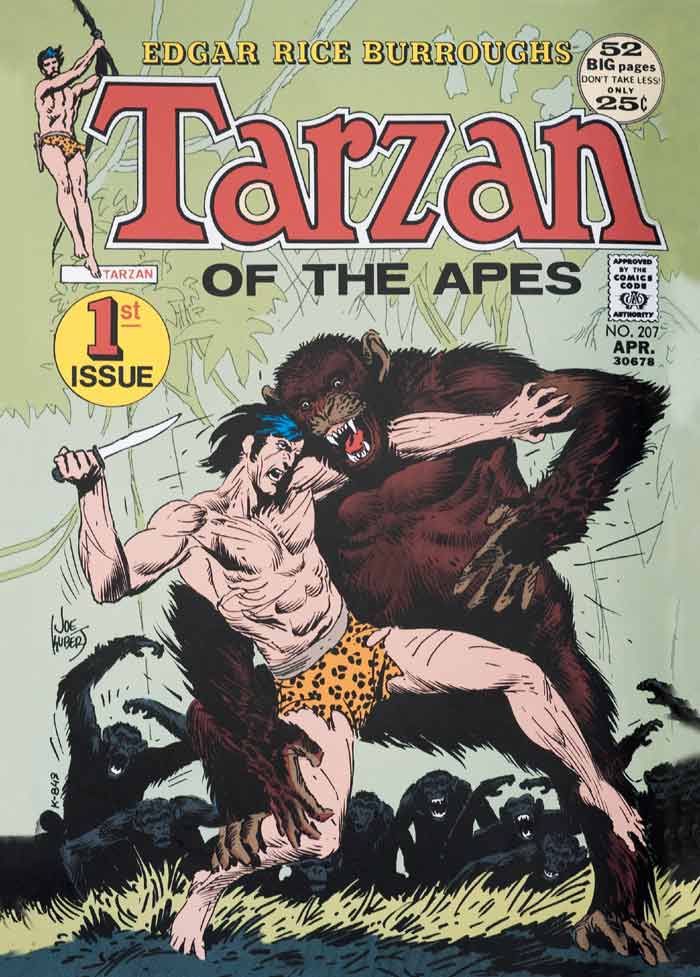 One of the galvanizing moments of my evolution as a comics fan and aspiring artist myself was when my eyes crossed this cover on the comic spinner rack back in 1972. I'd been aware of Joe's work on Sgt. Rock, of course– it was inescapable to like comics back then and NOT be affected by the genius of that work. But seeing Joe's fierce, primitive, elegant, graceful, poetic, savage take on the iconic Tarzan character– and adapting those first novels in an expansive multi-issue comic book format– was a whole new revelation. Without being fully aware of it at the time, when I cracked open those issues, I was beginning a master course in storytelling, in draughtsmanship, in the exhilarating magic of bringing a world fully, convincingly, dangerously to life.
That master course continued every time I poured over a new Kubert comic. It reached a high pitch when I was blessed by attending the newly-formed Kubert School in the late 1970's. And it hit it's highest mark when I benefited immeasurably from Joe's one-on-one mentorship after graduation, as he helped myself and a few other lucky Kubies take our first shakey steps into the ranks of professional cartoonists. Joe's generosity and passion in sharing his craft, and his inspiring, unwavering faith in his fledglings have made a huge difference in my life, and in the lives of a legion of other cartoonists.
With Joe's passing this past weekend, many eloquent writings and tributes are being shared by those of us whose lives have been profoundly enriched and inspired by this great-hearted genius of a man and artist. I would echo virtually all of those comments, and only add that of the men I have met, Joe is perhaps the one that it is hardest to imagine the world going on without.
Joe was elemental and essential, in his life and in his art. He had his priorities straight in both as well. In his art, he kept STORY first– never showing off with a fancy drawing that didn't serve the needs of the tale he was telling. To the last works Joe produced, he was dedicated to sharing the magic and power of story. In his life, he served his family, his community and his career with all the passion and commitment that his powerful frame could contain. I never once saw that waver. And if he once accepted you with that big-bear handshake of his, you were pretty much as good as family.
My thoughts are with Joe's family and loved ones, and because of the way he lived his life, that is casting a pretty wide net.
http://ronrandall.com/blog/wp-content/uploads/2012/08/tumblr-thicker-p-11.jpg
302
581
Ron Randall
http://ronrandall.com/blog/wp-content/uploads/2015/10/Ron-Randall-Logo1.png
Ron Randall
2012-08-13 08:35:28
2012-08-13 15:13:16
The Peak of the Mountain: Joe Kubert